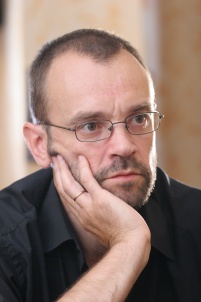 Rihards Dubra, Latvia
Rihards Dubra (Riga, Latvia) was born on February 28th, 1964 in Riga. He studied music first in Jurmala School of Music, after that at the Emils Darzins College of Music. In 1989, he graduated from the Latvian Music Academy composition class under Adolfs Skulte (as an elective he learned symphonic conducting), and in 1996 earned his master's degree at the Latvian Academy of Music under Juris Karlsons. During his studies, he began to teach harmony and composition at the Jurmala School of Music. Today he is a lecturer at Ventspils Music School. His other sphere of work is involved with the organ and liturgy.
Rihards Dubra was the organist at the Riga Our Lady of Suffering Church, and, as of 1999, he is the cantor of the Riga St. Mary Magdalene Church. The basic genres of the composer's creative work are large-scale genres for voices with accompaniment, choir music, organ music and symphonic music. Irrespectively of his genre choice, Dubra's basic creative interests turn to sacred music. "As the belief is the only purity in this world, I cannot see anything better, only to write sacred music," the composer comments on his creative activities. The composer's activities at St. Mary Magdalene congregation in Riga and singing in the group Schola Cantorum Riga from its very beginning give inspiration for his creative work. The basis of Rihards Dubra music style is the unification of minimalism and neo-romantic tunes with the intonation, form and philosophy of Gregorian, Medieval and Renaissance music. "My music often is meditative; I like to stop a moment and to check it for some time. It is not possible in life, but music lets manage the impossible – light, longing and eternity speak to us feeling every moment…" Rihards Dubra's music has been performed in several countries of the world: Latvia, Lithuania, Estonia, Sweden, Norway, Germany, Poland, England, France, Austria, Italia, Japan, South Africa, Canada, Argentina, USA and others.