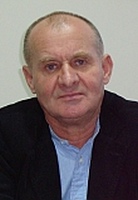 prof. Grzegorz Rubin, Poland
Prof. Grzegorz Rubin completed his musical studies at the Music Academy in Gdansk in 1972. There he started his professional career as an assistant. In parallel work as a choirmaster. He conducted choirs and academic youth in Gdansk and Bydgoszcz, among others. for 23 years he was the conductor of the choir, "Lege Artis". In 1984-1989 he served as artistic director and conductor of the Academic Choir of the University of Gdansk. The teams conducted their concerts in Bulgaria, Czecho-Slovakia, Denmark, Finland, France, Spain, Holland, Germany, Norway, Switzerland, Sweden, Hungary and Italy.
He received numerous awards and honors for choral competitions, such as: First Prize and Grand Prix International Choir Festival Skien, Norway ("Lege Artis" - 1998), "Silver Certificate" at the Second Kinder-und Internationales Jugendchorfestival of Giessen in Germany ("Lege Artis" - 1997), first prize at the Eighth National Polish Orthodox Church Music Days in Hajnówka (Bydgoszcz Chamber Choir "Pro Arte" - 1989), the second prize in the category of women's choirs at the III Festival Internacional de Musica de Cantonigros in Spain (Academic Choir University of Gdansk - 1985), as well as individual prizes, among others. in 1989 was awarded the prize for the best conductor on said day VIII Nationwide Orthodox Music in Hajnówka. He has participated in many music competitions as a juror. In the years 1999 - 2005 he was the artistic director of the International Festival of Sacred Music in Rumia. In addition to Grzegorz Rubin artistic activity continues teaching - to 2003 as a professor at the Music Academy in Gdansk, and since 2003 - University of Bydgoszcz, where the Institute of Music, the head of the Department of Music Theory.