Amroz Copi, Slovenia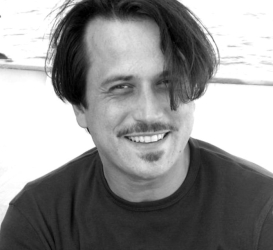 Ambrož Čopi graduated from the composition class of Dane Škerl and completed his post-graduate studies in the class of Uroš Rojko at the Academy of Music in Ljubljana. His compositions received awards at numerous composer competitions and are included on CD's: Lyrical Aquarelles (by the Academic choir APZ Tone Tomšič, conducted by Stojan Kuret) and Birdies were still dreaming (ČarniCe, conductor Stojan Kuret), as well as on various CDs by other national and foreign choirs. His compositions are published by the publishing houses Astrum, DSS, and Sulasol. For his outstanding achievements during his study Ambrož Čopi was awarded the Young Musician
Award in 1995, in 1997 he won the Prešeren Prize of the University of Ljubljana. He works as a prof at the Music Gymnasium Koper and Konservatory of Music Ljubljana. He conducts the Youth Mixed Choir of Gymnasium Koper, the Choir KGBL, until 2007 he had conducted the Chamber Orchestra »Vladimir Lovec« (2005–2007). Already at the
time of his study he founded the Chamber Choir Iskra Bovec (1992), 1998 he took the conductor's position in the newly founded Nova Gorica Chamber Choir (Komorni zbor Nova Gorica) till 2004 and in the Mixed Choir Obala Koper (till 2007). Since 2004 he has been the conductor of the Academic Choir of the University of Primorska. The
choirs brought him nine gold medals from national competitions, fourteen first places and several gold awards from competitions abroad: the Grand Prix of Varna (Bulgaria, 2008), Tonen 2000 (the Netherlands, 2006), Prèveza (Greece 2003 and 2006), the »Franz Schubert« from Vienna (Austria, 2001), Cantonigròs (Spain, 2000 and 2011), Fortlauredale (the USA, 1999), Samobor (Croatia, 2011), Ohrid (Macedonia, 201and Gdansk (Poland). For his interpretations he was awarded several special prizes; he further received prizes for exceptional achievements with the choir, and was selected the best conductor of the competition. In 2009 he was awarded the Gold Medal of the University of Primorska for the achievements with the APZ UP choir. As a professional adjudicator and a member of the competition juries he is regularly invited to various choral events and competitions, and as a lecturer he is involved in choral music seminars at home and abroad.